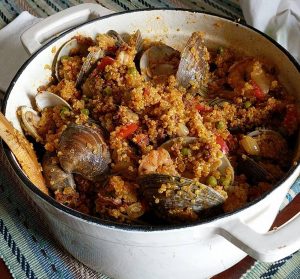 Ingredients
Herb Mix:

1/2 cup chopped fresh parsley
2 Small stripped twig of thyme
1/4 cup fresh lemon juice
2 large garlic cloves, minced

Paella:

1 Heavy pinch turmeric
4 cups chicken or veg broth
1 lb raw unpeeled jumbo shrimp (save the shells)
1 lb of steamer clams or mussels
1 tablespoon olive oil
2 links Spanish or Mexican chorizo sausage (any mild sausage would work, but use very sparingly as the flavor will overwhelm the seafood. Kielbasa is another very mild alternative that won't affect flavor)
4-8oz of slice prosciutto or ham (don't use bacon)
1 large coarsely chopped onion
1 coarsely chopped red bell pepper
1 cup canned diced tomatoes, undrained
3 large garlic cloves, minced
2 cups quinoa
1 cup frozen green peas
8 mussels, scrubbed and debearded
Lemon wedges (optional)
Throw the herb mix together and let it stand while you prep everything else.
In a large stock pot, add 1 cup of the broth and bring to a very light boil. Boil the saved shrimp shells for 15 minutes. After 15 minutes add your steamers or mussels and cook until they open. Discard unopened shellfish.
Pull the shellfish and set aside in a bowl. Strain the remaining broth back in with the rest of your broth and discard the remaining shrimp shells.
Add a drizzle of oil to your stock pot or paella pan. Add the chorizo and prosciutto or ham and heat through on high heat. Keep things moving so they don't burn. Pull the meat and set aside in a bowl.
Add your raw shrimp and cook each side for 45 seconds – 1 minute (until just pink). Small shrimp require less time, larger shrimp more time. For very small shrimp, just toss in, stir them around for 2 minutes and they're done. Pull and combine in the same bowl with the meat.
Reduce the heat to medium and toss in your onion and bell pepper. Cook both until the onion is slightly translucent and has started to caramelize (15ish minutes).
Add in your can of tomatoes, a heavy three fingered pinch of turmeric, and additional garlic. Let this simmer for 5 minutes.
Add in your dry quinoa and stir constantly until the tomato juices are soaked into the quinoa (this will happen quick)
Add in the herb mix, broth, peas, and your bowl of meats, leaving the clams or mussels aside until the end.
Mix everything together until the mixture starts to boil, at which time you reduce the heat to low and place a lid on your pot.
Check in at 10 minutes scraping the bottom of the pot to ensure that nothing is burning. If it seems to be running hot turn off the heat entirely. The mix should still be very moist, but the quinoa probably has another 10 minutes. Replace the lid and let stand for 10 minutes.

It's possible you may have to add in a dash of water if your quinoa doesn't seem to be softening.

Check that your quinoa is done and add in your clams or mussels.
Serve with freshly squeezed lemon.